About
Haven O'Ganga
---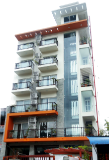 Get to know us better - you need to know who you are staying with.
Haven O'Ganga is a new luxury hotel that has opened its doors to guests from around the globe. It's only a few minutes' drive from both the Pokhara airport and the tourist bus park.
Tucked away on a quiet and peaceful street in central Lakeside, it is only 500m from the bustling main Lakeside street. It is close to local pubs, restaurants, shops, transport facilities and all the exciting places around the lake.
We have 24 hours secure CCTV surveillance, an on premises security guard and doctors on call. Every floor has fire hydrants.
We also provide a free safety deposit service.
---
Private Parking Spaces
Haven O'Ganga offers its guests a parking facility free of cost. Our hotel car parking provides you with secured spaces for the duration of your trip - there's no confusion about where your car is stored, and it's easy to get to and from the airport.
Lake Views
You can experience magnificent views of the Fewa lake from Haven O'Ganga. The hotel's location is perfect for experiencing the views of many of the mountains and Fewa lake. Every room has a private balcony. The front rooms on the higher floors get a perfect view of the lake and/or the mountains.
Airport Transfer, Pick Up and Drop Off
Hotel Haven O'Ganga offers assistance with airport pick-up and drop-off and any other transportation requirements. Our concierge will be happy to arrange suitable transportation for you around the clock.
Free Wi-Fi
Smartphone, tablet, computer; don't miss a bit and stay connected while you stay with us. We offer free high-quality WiFi Internet access. Check your emails, browse the web, connect with your friends and family- Wireless internet coverage is available throughout the hotel.
Laundry Service
Our professional laundry and dry cleaning services are available for our guests' convenience.Your fabrics are handled with the utmost care.
Concierge Service
Our concierge is at service around the clock to ensure guests' needs are taken care of.
[contact-form-7 id="80" title="Contact Form"]