Get to know who you are staying with.
Haven O'Ganga is a new, luxury hotel that has opened its doors to guests from around the globe. We are only a few minutes' drive from both the Pokhara Airport and the tourist bus park. Tucked away in a quiet and peaceful street in central Lakeside, we are only 500m from the bustling main Lakeside street. We are close to local pubs, restaurants, shops, transport facilities and all the exciting places around the lake.

Our boutique rooms are comfortable, modern, elegant and stylish. Each room has a private balcony that offers a wonderful view of the lake, the surroundings or the people. All the rooms come furnished with an en-suite bathroom, a 32" H-D TV, air-conditioning, a minibar, free wifi, fresh linens, the essential bath amenities and tea and coffee making facilities. In short, we have done our best to provide you with every comfort. Most of the rooms also offer breathtaking views of the majestic Annapurna range and the Fewa lake. You will also be amazed by the beautiful view form the rooftop terrace.
What's in a name?
The name Haven O'Ganga reflects both our heritage and our desire for our hotel. Ganga was our grandmother's name. We chose 'haven' because we wish for Haven O'Ganga to be a safe and comfortable home to all those who stay with us.
Pokhara is a valley with many beautiful lakes, perennial rivers and rivulets and lush green hills.
It has a wide spectrum of cultures and traditions, and sits in the lap of the mighty Annapurna range of the Himalayas. Pokhara is blessed with panoramic views of the majestic mountains from every corner. Situated at an altitude of 827m above sea level, and 200km west of our capital city, Kathmandu, Pokhara is the number one adventure and leisure city in Nepal. Here you can experience the best of trekking, hiking, paragliding, ultra-light flying, white river rafting, zip flying, bungee jumping, boating and, of course, cultural immersion, making your visit truly unforgettable.
For a perfect holiday, Pokhara is the ideal destination. Your stay at Haven O'Ganga will surely add to your memories of Pokhara.
Lakeside
In Pokhara, Lakeside is the most popular tourist attraction. It stretches along the banks of the Fewa Lake, where the best restaurants, cafes, bars, trekking gear stores, health & beauty centers, gifts and curio shops are located. One can enjoy shopping, eating or boating at the majestic Fewa Lake.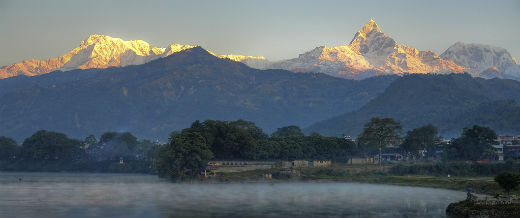 ---